will-cook-kankakee archive stories
Feel free to add share this article...
| More
Here are some stories we covered from the 2010 season. What an exciting year...

Congratulations to every in the Will-Cook-Kankakee family!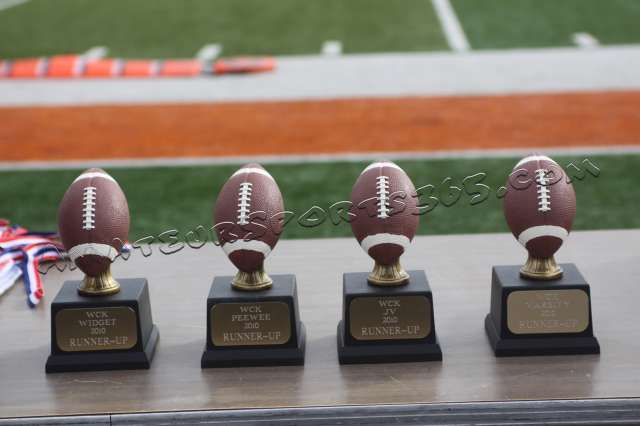 2010 SUPERBOWL Recap
What a wonderful weekend for football... after weeks and weeks of competition, 8 teams battled hard for their respective championships.
For the our recap, click here.

2010 Will-Cook Cheer Associations
The annual year-end competition was held October 30 at Rich Central High School in a jammed-packed gym. All of the participating teams brought their A game too!
For the results, click here
What a Championship weekend....

Congrats to all of the teams.

For the game summa

ry,

click here

.

PLAYOFF RECAP

...




What else can I say but w

hat a weekend!

For the game summary,

click here

.

SORRY FOR DELAY

...

We lost two servers over the weekend and worked 36 straight hours re-building them as well as uploading this weekends games (videos).

PLAY

OFF SCHEDULE


***

CORRECTED

***


The schedule is in...

click here

to review it.

You can print this weekend schedule. Just select the day you want.


Saturday

Sunday


Will-Cook 8




In the final week of play, Week 8, a couple of teams on the bubble proved they are playoff worthy.

For the game summ

ary,

click here

.

Will-Cook 7




Week 7 has several undefeated teams still on top and other teams are trying to squeeze into the

playoffs

. On top of that, there were

four

sweeps and one game took three

overtimes to complete.

For the game summary,

click here

.


NATIONAL BREAST CANCER AWARENESS MONTH



W

e are proud to announce that for the entire month of October, we have modified our site in lieu of

National Breast Cancer Awareness Month

. NBCAM is a non-profit organization with a 501(c)(3) tax-exempt status and a prestigious 4-star rating from Charity Navigator.

For more information, click here.

Will-Cook 6



W

eek 6 is putting four undefeated teams on the same field this weekend: Chicago takes on South Holland (Widgets), and Country Club Hills takes on Markham (PeeWee), and someone will receive their first lose: Who was it?



For the game summary, click here.

Will-Cook 5
Week 5 had just about everything, as many teams celebrated homecoming and their 8 graders. In addition to these notes, there were ten teams coming into Sunday that are UNDEFEATED and when all of the smoke cleared, there were eight as South Holland (PeeWee) and Markham (Varsity) received their first defeats of the season.

For the game summary, click here.
Will-Cook Week 4


During week 4 of the 2010 season, Will-Cook had to compete with the NFL for the first time, but many stands were still packed. Plus, Mother Nature provided the entire league with fantastic weather.

For the game summary, click here.

Will-Cook Week 3


Many stories were created this weekend, as well as a couple of trophies exchanged hands...

For the game summary, click here.

Will-Cook Week 2
We have guessed that Mother Nature is a football fan because she provided the Chicagoland area some beautiful weather. On the actual field, what another exciting weekend of contest. For the game summary, click here.

Will-Cook Week 1


What a wonderful weekend full of excitement as the Will-Cook league kickoffs.

We split our initial coverage into two separate sites... Markham Patriots vs. Richton Park Raiders; & Matteson Bears vs. Eastside Bulldogs games. Click here read game summaries.

BATTLE OF THE SOUTH SUBS
South Holland Jets played host to the Dolton Bears in what's being called a pre-season tradition in the south suburbs of Chicago. Click here for more.

| | | |
| --- | --- | --- |
| | | |
Here is your opportunity to stop hating the media and actually become it!
We are always looking for additional personnel. Click here if you are interested. If you would like to submit a story, score, stats, or even photos, click here.

FOLLOW US...