SPORTS


Weather in




Amateur Sports


subsidiary of S.C. Fitch Enterprises, Inc.
4710 Lincoln Hwy, Suite 350
Matteson, IL 60443
708.201.1781 voice
708.231.8266 fax

You can also catch us at:
just click at icon below



Powered by



Girls Roundup....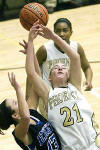 courtesy of yourseason.com / Brett Roseman (SouthtownStar)
Top-ranked Young defeated North Lawndale 68-23 on Friday to improve to 9-1 overall and 3-0 in the Windy City West.
Mariah King anchored the Dolphins with 24 points and 12 rebounds, while Gillian Asque and Ashley Anderson added 11 points each.
Best Practice 28, Collins 26: Dominique Owens had 14 points in the Panthers' (2-3) Chicago West victory.
Chicago Christian 62, Luther South 6: In the Private School League, Jenne Speelman had 10 points to lead the Knights (4-5, 1-1).
Highland Park is 2-1 in the league. It got 12 points from Jenny Arnold.
Francis Parker 31, Hope 22: Francis Parker (3-7) was led by Catherine O'Conner's 14 points.
Harlan 58, Brooks 39: Tieyiah Johnson scored 26 points, and teammate Ashley Crawford added 11 points, five rebounds and five steals for the Falcons (6-3, 2-1).
Julian 68, Fenger 44: In Chicago South play, Naomi McNeal led the way for Julian (5-3, 3-2) with 18 points, five rebounds and four steals. Latrice Taylor added 18 points and seven steals, while Dominique Hodges had 12 points and 14 rebounds for the Jaguars.
Marshall 58, Crane 30: The No. 13 Commandos (8-2, 3-0) earned a Windy City West victory behind Shantieira Miller's 21 points and Adrian GodBold's 15 points and 12 rebounds.
South Shore 39, Vocational 37: Shade Hill scored 12 points to lead the Tars (3-1) to a Chicago South victory.
| | |
| --- | --- |
| NOTE: We are proud to announce that for the entire month of December, S.C. Fitch Enterprises, and all of its affiliates including Amateur Sports News Network, ASNN365.com, and Amateur Sports Gallery will be assisting Connection for Abused Women and their Children (CAWC) on our web site. | |
Any pictures taking at the game can be found in our photo gallery - click here!
Here is your opportunity to stop hating the media and actually become it!
We are always looking for additional personnel. Click here if you are interested. If you would like to submit a story, score, stats, or even photos, click here.

View my Online Calendar Amateur Sports Event Calendar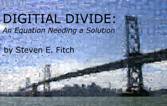 Digital Divide Book Available at

&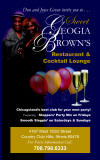 George Caribbean Soul
Your Island on Wheels
Genya Harley



Reduce your insurance cost TODAY!!!