GOLFING GADGETS...
One thing is for sure... GOLFERS LOVE GADGETS!!!



Anything that says we will help your game... hit it long and straight with my product... stay in the short grass with my product... never lose a ball...





So, whether it's a $800 driver or a $200 training aid or a new designed non-slice tee... us golfers will buy!





Any the good part is some of that stuff will work... "there are some very purposeful, very useful learning aids" on the market says Dave Pelz, coach for Phil Mickleson.





To separate some of the good stuff from the not-so-good stuff, we went shopping to find some new and innovative golfing gadgets.






Test your golf IQ ~click here!
| | | |
| --- | --- | --- |
| | | |
TEEING OFF
It's all about the tee... there are big tees for huge drivers... little tees for irons... plastic tees that "promise" four more yards... bamboo tees... spring-loaded tees... and of course, environmentally friendly tees...

Brush-T by Bonfit Sport cost about $2 each


LAUNCH YOUR DRIVES WITHOUT RESISTANCE OR DEFLECTION AND GAIN UP TO 7 ADDITIONAL YARDS WITHOUT CHANGING EQUIPMENT - THE ORIGINAL PERFORMANCE GOLF BRUSH TEE FROM BRUSH-T®

The innovative Brush-t ® performance golf tee allows you to tee your ball at a consistent height on flexible synthetic bristles that bend on impact, creating a feel of driving the ball off the air. Unlike a regular golf tee, the bristles on the brush tee provide significantly less resistance which produces dramatically longer and straighter drives.




Launcher Tee by Tee Guard cost about $6.99 for a four-pack


Launcher Tee features a 36% smaller ball seat area as compared to a regular wooden tee. This also translates to less friction/resistance equating to longer drives off the tee.




When you add Launcher Tees Maximum Performance with its Unmatched Durability it's no wonder why many have concluded that Launcher Tee is overall the best tee available on the market today.

~

click here for more



PrideSports - environmentally friendly

Pride Golf Tee is the world's largest manufacturer of wooden golf tees, thanks to a state-of-the-art technology that enables the Company to produce billions of tees per year. However, despite more than 70 years of dedication to the quality of the wooden golf tee, Pride has continually faced opposition from plastic versions as well as mass molded wood imitations. Some even claim to be biodegradable. Unfortunately, these competitive products have fallen far short of the quality and performance benefits of the Pride golf tee.
~click here for more
Tee Guard by SpineTee

~click here for more
Sweet spot finder on golf balls. While spinning a golf ball at 10,000 revolutions per minute, the Check-Go automatically realigns the golf ball's heaviest areas along its equator, so that a less than perfectly balanced golf ball no longer has a tendency to wobble, but rather roll more accurately on the green. The Check-Go will not make an unbalanced golf ball perfectly balanced. What it will do is show you the optimal balance point of each and every ball you put in play.

~click here for more

SWINGING
There are so many choices here as far as practicing your golf swing.



The SKLZ Gyro Swing, made by Pro Performance Sports sells for $220 online helps golfers make the correct swing without thinking too much.



For the first time, you can feel the perfect golf swing instead of worrying about techniques and instruction. The gyroscope in the club head forces your swing to stay on plane and grooves a perfectly timed release.



~click here for more
The SmartStick made by Grip It Golf, which sells for $229, is a bright-or-ange stick with small lasers at each end that are used to traced the ideal plane of a golf swing.

The SmartStick is a golf swing training tool that provides continual, visual feedback throughout the entire swing. It utilizes green lasers and an innovative wrist bar that will teach you the flat left wrist at the top of your swing, how to hinge your wrist 90 degrees as well as how to maintain club head lag on the downswing. With the green lasers the Smart Stick can be used indoors as well as outdoors.

~click here for more

SIMULATORS
So, imagine playing the best courses in the world every night - from Pebble Beach to Sawgrass to St. Augustine... This is the world of simulators! There are a dozen or so manufacturers of this golfer solution:



DeadSolid Simulations

is

the most advanced indoor golf simulator

systems for 18 hole golf on famous courses like Pebble Beach, & computer Swing Analysis systems with digital video for club fitting & golf instruction-perfect for indoor golf centers, sports bars, golf shops, & even your home.

~click here for more


AboutGolf

provides indoor golf simulators and golf launch monitors worldwide over 30 meticulously reproduced courses.



~click here for more
Full Swing Golf has been delivering the ultimate indoor golf experience to players worldwide.
Featuring state of the art courses, ball tracking and performance products, our simulators drive results for your game or business.

~click here for more

Whew, these solutions have a nice price tag attached to it starting around $20,000.

An inexpensive simulator can be found on your family-friendly video game console (PS3, Wii).



COURSE MANAGEMENT


Technology has allowed the rules of golf to be amended so golfers can use hand-held devices allowing them to get a better look at distance and obstacles on the course.
GolfLogix

Today is the day to get the #1 App for Golf on your phone for FREE!

The Top-Rated Golf App Across all of the Best-Selling Smartphones
The Most Downloaded Golf App 2009-2012
The Largest Online Golf Clubhouse in the World with Millions of Active Members



~click here for more
SkyCaddie mappers walk every course using sub-meter, survey grade equipment to record critical distances to hazards, layups and green targets for the most complete and reliable distance information available to amateurs. A Tour Caddie would never trust distances derived from aerial images or flyover and neither should you. SkyCaddie, the closest thing to having a Tour Caddie and Tour Player's yardage book.

~click here for more
Smart-phone apps It didn't take long for applications for smartphones and mobile devices to find their way into golfers' lives. And golf GPS apps are some of the most popular. But how do you know which golf GPS app is best for you? One way is to find out the opinions of golfers who've already tried them.

~click here for more

TRAVELING IN STYLE
For those that enjoy walking the course, there are several products on the market that makes your 18 holes enjoyable...

The Segway, a product of Segway, Inc, can travel from tee to green at just over 12 miles per hour and zip 14 miles between charges. One drawback of The Segway is it doesn't have a beer cup holder.

Click here for more
Golf Bag
Now that you have your golf clubs and balls, you need somewhere to keep them. There are two main different types of bags: Cart bags and stand bags. Cart bags fit nice and easy into your golf cart, while the stand bags are for the walkers, because they have a kick stand that keeps the bag standing up while you hit your shot. Here is a list of top bags according to Golf Digest ~click here
Luggage
It's nothing better than having your golf clubs travel with you in a secure, safe manner.

~click here for more
In short, not all golfers can afford all of these bells and whistles so some of the simplest items can be found right at home for improving your golf game, such as a mirror and/or an existing video camera on a tripod...

Another good, inexpensive home aid is a whisk broom.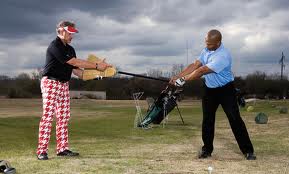 Here is your opportunity to stop hating the media and actually become it!
We are always looking for additional people to submit stories, scores, stats, photos, video, etc...
NOTE: We are proud to announce that for the entire month of June, S.C. Fitch Enterprises, and all of its affiliates including Amateur Sports News Network, ASNN365.com, Amateur Sports Gallery and Kennel Sports Talk will be honoring this month as Sports America Kids Month. This years' campaign organization is Kids Running, which is devoted to promoting the sport of running for kids so that they can enjoy the benefits of a fit and healthy lifestyle both at school and home. We integrate academics when we can. For more information, click here.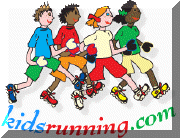 FOLLOW US...