High School Football - Week 9 & City Playoffs Coverage
This weeks' Friday night lights actually kicked off Wednesday with the Public league playoffs. At the top of the mountain was Julian who scored 50 points and shut out Kennedy to advance in the Windy City conference. The Jaguars got things going on the ground behind Chris Williams who had over 200 yards on just five carries. He also scored three touchdowns. Also on Wednesday, Lindblom knocked off Hirsch 14-12 and North Lawndale did a repeat score performance on Rauner, 50-0.
NOTE: The full 2009 IHSA Football Playoff Pairings Timetable ~ click here!
This weeks' game summary is sponsored by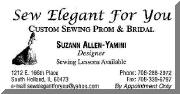 for more click card above
MARIST rolls big time

In their last meeting Marist won 35-26 last season. But the story inside the story is for the first time in his 38 years as a football coach at Marian Catholic, Dave Mattio wasn't on the sideline for a varsity game last week. The 1966 Marian graduate, who has been head coach for 34 seasons, was absent from Marian's 28-6 loss to Joliet Catholic on Friday after being taken to the hospital earlier in the day because of a blood clot. He was released earlier this week.

"The decision to miss the game was quite simple once the medical people explained what was happening, " said Mattio, who received updates during the game from his son, Josh. "When you get used to a routine on Friday night, it's certainly a little strange not being at the game."

Right now, Marian is on a two game losing streak and tonight didn't work in their favor.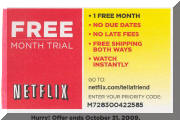 Marist quarterback Mike Perish stayed clean three straight quarters attributing that to his offensive line. Basically he went airborne all night throwing four TDs in the 49-0 victory over Marian Catholic in East Suburban Catholic play. "I can't believe my uniform is so clean," said Perish, sporting just a patch of dirt on his left shoulder from an early fourth-quarter scramble. The offensive line played great. They deserve all the credit. They got a big push and the pass protection was great."

Despite a strong wind and slippery conditions, Perish completed 18 of 24 passes for 316 yards. The Western Michigan recruit directed the RedHawks on three consecutive scoring drives to start the game.





Chicagoland Sports Talk Podcast dedicated to you...
Providence wins conference title
On this Friday night, the Caravan packed things up and took a 20 mile journey to New Lenox to take on Providence. In their last meeting, last season, Providence held off the Caravan 6-3 in the mud.
| | |
| --- | --- |
| Going into the game, Providence knows better than to be overconfident based on what each team did against St. Rita. For example, Providence beat the Caravan 42-16 in 2004 but squeaked by 16-15 weeks later during the playoffs. Caravan assistant Dave Lenti's defense has uncharacteristically allowed 21 or more points in six games but held St. Laurence to seven points last week. The question of whether the Caravan defense has found its identity will be answered Friday night and well, depending on who's side you are on, the answer was clear. | |
On the game's opening drive, Denzel Thompson's 71-yard run set up a 2-yard scoring run by Milton Greer to give the Caravan a 7-0 lead, which held up until late in the second quarter, when Hanrahan broke out of a pack of would-be tacklers and scampered 75 yards for a 7-7 tie at halftime. The Caravan had a 14-10 lead with 2 minutes, 42 seconds left in the fourth quarter and a first-and-10 on the Celtics 33-yard line. Instead of running out the clock, the Caravan attempted a pass that was tipped into the hands of Celtics defensive back Matt Crowley. "I'm glad we got to give our offense one more chance," Crowley said.

The Celtic offense took full advantage and drove 63 yards with 2:37 left in the contest for the win and the conference title. The winning play was when Joey Hanrahan ran a yard for the winning touchdown with 28.6 seconds left. "You always want to have a drive like that," Houlihan said. "I didn't think we would get that chance and I thought for sure they would run the clock out. Thank God they didn't."
At first Mount Carmel coach Frank Lenti tried to rationalize a play call that turned the tide Friday during a Catholic Blue showdown at Providence. Then he conceded he made a mistake.

"My bad, my fault, was a bad job on my part," Lenti said after his team's 17-14 loss to Providence. "The kids deserved a better fate."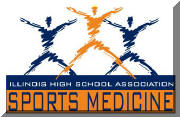 Lincoln-Way North continues its winning ways...
What a difference a year makes. In their first varsity season last year and with no senior class, the Phoenix lost all nine games. It appeared that the road to respectability was long and rocky. But this year's team didn't see it that way.

"Our goals from the beginning of the year were to win our conference and make the playoffs," Lincoln-Way North senior quarterback Tait Erikson said. "We've come a long way since being 0-9. That 0-9 is what drove us to get better. I'll don't think I'll ever really forget it."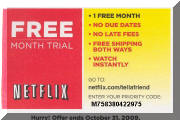 This week's game against Andrew also will be memorable. Lincoln Way North hosted the Thunderbolts on Friday in a game that will decide the conference outright.

After dropping its first two nonconference games to Lincoln-Way Central and Lincoln-Way East, the Phoenix won five of their next six games. That includes a 42-13 rout of third-place Bradley-Bourbonnais, a team that defeated Lincoln-Way North 33-16 last year.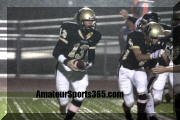 | | |
| --- | --- |
| In the blowing rain for senior night the Phoenix responded early with a field goal to take the early lead. Then right before halftime, they were able to get the ball into the end zone by Alex McInerney on a 4-yard TD run to take what would be the only touchdown on the evening. The Phoenix won 10-0. | |
"All the conference coaches knew that North would be a contender," Andrew coach Jim Zimmer said. "They were well coached, and even though they went 0-9, you kind of saw what they could become. They played with a lot of purpose."
Loyola wins over St. Rita
Loyola quarterback Will Forsyth said his position coach describes him as an athlete who likes to run. But his passing, not his running, spelled the difference in the Ramblersí 17-7 victory over St. Rita Saturday in a duel of Catholic League Blue powers in Wilmette.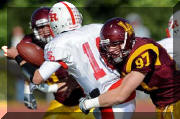 Loyola's Mark Sullivan (right) tackles St. Rita's Robert Gallik.
(John J. Kim/Sun-Times)
NOTE: The full 2009 IHSA Football Playoff Pairings Timetable ~ click here!
Any pictures taking at the game can be found in our photo gallery - click here!
| | |
| --- | --- |
| NOTE: We are proud to announce that for the entire month of October, S.C. Fitch Enterprises, and all of its affiliates including Amateur Sports News Network, ASNN365.com, and Amateur Sports Gallery will be modifying a portion of its web site in lieu of National Breast Cancer Awareness Month (NBCAM). C | |
Here is your opportunity to stop hating the media and actually become it!
We are always looking for additional personnel. Click here if you are interested. If you would like to submit a story, score, stats, or even photos, click here.

Click here to view our Online Amateur Sports Event Calendar