CHICAGO - In the 76th Chicago Prep Bowl put the Mustangs from St. Rita against the Wolverines from Simeon (10-4) at Solder Field. In this game, the Catholic league has won the last three games and this years wasn't any different with a 34-20 win for St. Rita.
With lots of exciting plays and effort, a controversial 4th quarter, phantom, pass-interference call disrupted the Wolverines chances against the Mustangs. With the score tied at 20, Simeon appeared to have halted a St. Rita drive at the Wolverines' 28. But after an incomplete pass on fourth-and-17, Simeon was called for interference.

From here, the Wolverines sideline disagreed with the call and was penalized even more for unsportsmanlike conduct after an assistant coach charged on to the field and threw a headset. The penalties gave the Mustangs a first-and-10 from the Simeon 11. "That call was ridiculous," said Simeon coach Jesse Chick. "It was a great, well-played game up until that point."

Two plays later, Jahwon Akui bowled in from the 3 to give the Mustangs a 27-20 lead with 8 minutes, 3 seconds remaining. Akui added a 16-yard scoring run with 1:49 left.
| | |
| --- | --- |
| The junior phenom, Jahwon Akui, proved to be too much on the afternoon even with a nagging hamstring injury for the second half of the season. He finished the game with 148 yards, NOT including an opening kickoff return for a touchdown. When the final whistle blew, Akui had 4 touchdowns. | |
"We figured we could dominate up front and our lineman did a great job," said Akui, the game's MVP. "There were lots of holes and lots of space to run. I just feel blessed."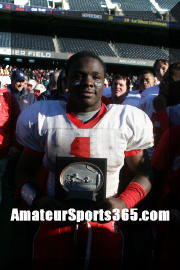 The Mustangs upped the lead minutes later when Travis Starks busted off right tackle for a 33-yard touchdown and a 14-0 lead.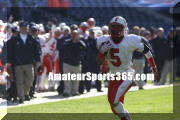 | | |
| --- | --- |
| Even in this hole, Simeon didn't quit and kept pushing the Mustangs behind sophomore quarterback Robert Gregory who sparked the Wolverines the rest of the half, rushing for 41 yards in a 15-play, 80-yard drive that was capped with his 1-yard plunge on fourth-and-goal to cut the lead to 14-6. | Gregory finished the contest 12-for-26, 141 yards; 13 carries, 166 yards. On Simeon's next drive, Gregory ran for 75 yards and a score, and Horatio Banks' two-point conversion knotted the score 14-14 with 10:47 left in the half. |
At the end of the game, two Simeon coaches attempted to run after officials but were quickly restrained by Soldier Field security.

"I just saw two players go up for the ball and unfortunately they called it on us, but I didn't see any pass interference," Simeon defensive back Demarius Reed said. "The ref made the call."