week 6 - Will-Cook-Kankakee youth association
Week 6... time for the annual grudge match against teams local nemesis.... Yup, it's R-I-V-A-L-R-Y weekend!!!

By definition, a rival is a person, team, company, or other organization competing against another person or team, etc.

In most of these rivalries, less than 2 miles separate each other. Given their proximity the neighboring schools have developed a significant rivalry over the years, so this weekend could illustrate some the best gridiron showdowns in youth sports yet.
When you hear the word, "rivalry," what comes to mind? Bears-Packers? Baltimore-Pitt? Cubs-Sox? Ali vs. Frazier? Yankees vs. Red Sox?

Although all of these match-ups of considerable renown, our worlds are filled with numerous, smaller rivalries. For instance, when the guy next to you sees that your elliptical trainer is set at level ten, and then, in true Spinal Tap form, turns his up to eleven—that's a rivalry.

When your neighbor one-ups you by buying a weed whacker that he can actually ride—that's a rivalry.

But, right now I'm talking about when you've grown to despise another youth team because they show up to play your team in custom uniforms with matching gear bags, warm-ups, cleats, cheerleaders and fancy chants — well, that's a rivalry.

I have witnessed many youth football games but when it comes to Rivalry weekend, Will-Cook-Kankakee style, W-H-E-W, there is nothing like it. The atmosphere is electric... the stands are packed... chants are loud and encouraging... and for those few hours, even some of the best of friends just don't talk until the contest is over.


To put it simple, this is what amateur sports is all about... win or lose, both teams shake hands and break bread together after the game.

Week 6 for the Will-Cook-Kankakee Youth Association, put the following teams on the field (
EXCELLENT SCHEDULING
):
Richton Park @ Matteson (Saturday - 2p)
CC Hills @ Park Forest
Chicago Heights @ University Park
South Holland @ Chicago
Eastside @ Kankakee
Hazel Crest @ Markham


On the field teams had specific game plans and many were successful with them including
four
sweeps.
Things got started in the Cross-town Classic Saturday in Olympia Fields between Matteson Bears and Richton Park Raiders. It was all Raiders. The Bears went three-and-out on their first possession and on the punt return, the Raiders Noah Ellen's returned it for 75 yards (6-0). This kicked started the game. Later in the second quarter, Ricky Larkin scored the second and final score in the contest on a QB keeper (final 14-0).
This contest, you can see for yourself by visiting our online broadcast channel by
click here
.
Up next, were the 4-1 Peewees' Raiders taking on the 3-2 Bears. The Raiders jumped out early to a 18-7 lead at halftime. Mr. P. Montgomery scored the teams first touchdown on a short run at the 5:55 mark in the first quarter. Then shortly after that on their second possession, the Raiders ran it in from 22 for their second score (12-0). And right before the end of the first quarter, the Raiders ran another one in but this time from 37 yards away. Right before halftime, the Bears got on the board on a fake punt return from 35 yards away (18-7). In the second half, the Raiders snagged the momentum of the Bears going ahead with three additional scores including a late touchdown run (with 30 seconds left in regulation) from 19 yards out to make the final score 36-7.
In the third contest (JV), the Raiders jumped out quick, including returning the opening kickoff for 60 yards plus and never looked back obtaining a 33-0 victory.
In the final game... the night cap... the main event... well, it was all Raiders once more, 34-0.
So in the contest, the Raiders snagged all four of the AmateurSports365.com Cross-town Classic trophies and kept the traveling trophy for one more year. Congratulations Raiders!!!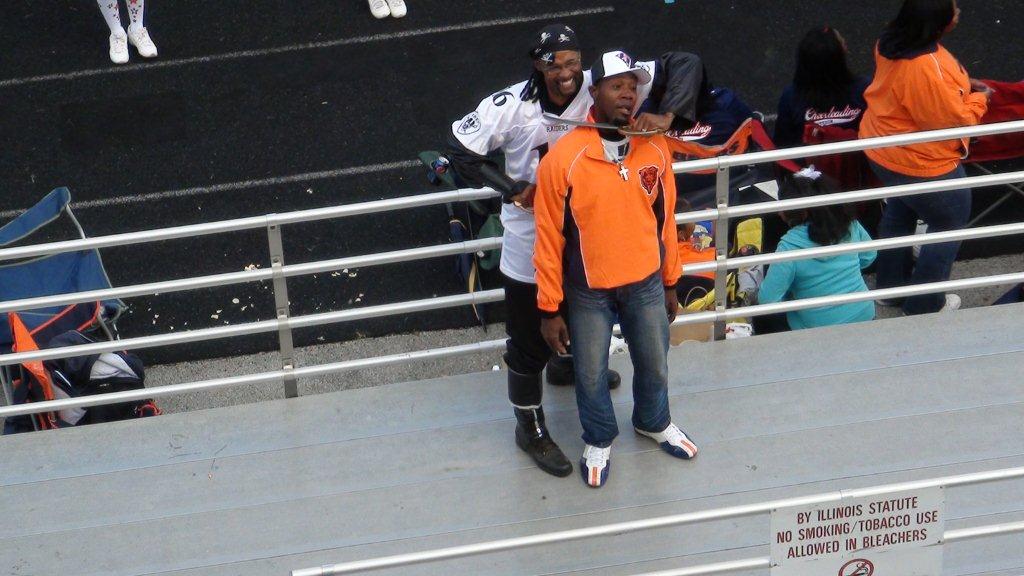 The Raider illustrated the afternoon against SpiritMan...
In other games around the league, we witness the Junior Varsity contest of Park Forest and Country Club Hills. This contest put the undefeated Hurricanes up against division foe Cougars who were 4-1 coming into the game.
1The Hurricanes jumped out fast recovering a fumble on the Cougars opening drive and few offensive play later, Kevin Pate took the ball in for his first score on the afternoon (6-0). Mr. Pate scored again in the second quarter on a short run making the score (12-0). The Hurricanes got their final score on a 40 yard plus pass to Ricky Smallwood right before halftime (18-0). But, as you know, the Cougars were not going to lay still and give up. Coach Cole got them fired up to start the second half and they were able to hold Hurricanes offensive out of the end zone and spike some energy offensively. To start the third quarter, the Cougars recovered the kickoff fumble and a few offensive plays later, they got in the end zone on a short run (18-6). The Cougars ears were pinned back and they caused yet another fumble of the Hurricanes, but were not able to capitalize any further.

Final score... Hurricanes 18 Cougars 6.


Other teams obtained Rivalry weekend bragging rights by sweeping their opponents including University Park Lions over Chicago Heights; Eastside Bulldogs over Kankakee Colts; and Markham Patriots over Hazel Crest (sort of). Markham doesn't have a Widget team so they forfeited that contest but won all of the played games. South Holland were on their way of spoiling Chicago's day by sweeping them but in the Varsity contest, the Cardinals held on to a narrow 7-6 victory.
For other scores,
click here
, and for Week 6 schedule,
click here
. If you would like to submit a game summary / recap, we truly encourage you to do so by
clicking here
. Until next time... see you from the sidelines!
NOTE: We are proud to announce that for the entire month of August, S.C. Fitch Enterprises, and all of its affiliates including Amateur Sports News Network, ASNN365.com, Amateur Sports Gallery and Kennel Sports Talk will be honoring this month with Back-to-School drive via DonorsChoose.org. There mission is to improve public education by empowering every teacher to be a change-maker and enabling any citizen to be a philanthropist. Click here to donate or for more information.

FOLLOW US...