This offensive spiral was ultimately due to bad shot selection but also with a knee injury to Luster, who was on the bench getting treatment for most of the game. Also the Hawks controlled senior center Jeanise Randolph, who scored only 2 points in the first half and 11 for the entire game.
"We ran into a Hillcrest team that played a great game on its home court," Meteors head coach Tim Zasada said. "We had the shots. Sometimes we hit them and sometimes we didn't. We're a transition team and Dawn Luster runs a lot of that."
Additionally, Randolph got into early foul trouble, which changed their defensive strategy.
"We were able to withstand their storm," coach Maniatis said. "The game plan was to let them hit from outside and shut down Randolph. But if they had kept hitting from outside, it would have turned into a long evening."
As the temperature drop from the perimeter for the Meteors, the Lady Hawks found some momentum and put on an 11-1 run from the t-e-am... Yolanda De La Torre finished with 16 ; DePaul-recruit Uniquah Hampton added 12; sophomore Shannise Heady with 11; and 5'2" Samirah Ali led everyone in the gym with 26. This is also a career high for her.
"She brought her heart out here and was the key to our game," said senior captain Uniquah Hampton. "She's got hops. She can jump real high and she's real strong."
A-L-I BUMAYE!!!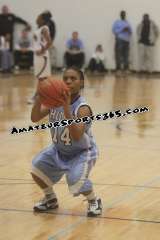 A-L-I
BUMAYE
!!!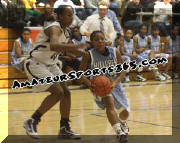 A-L-I
BUMAYE
!!!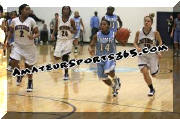 "I just tried to bounce back from last time, when I scored four points," Ali said. "I felt faster than everyone on the court tonight and I just kept going [to the basket]."
The Meteors were led by Illinois-recruit Centrese McGee with 23. She also snagged 16 boards. This team has nothing to hold their heads down about. They have won 3 straight conference titles as well as 3 straight regional crowns.

"They [Hillcrest] had a little bit more gas at the end," coach Zasada said walking away.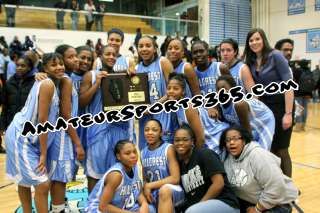 I wonder what the championship meal will be this week. Last week, as she mentioned in her weekly diary with the Chicago Tribune, they enjoyed Applebee's.
Up next for the Lady Hawks is a taste of De Ja Vu. Last year in the Class 3A supersectionals they played Peoria Richwoods, who came out victorious and won the 3A championship. So far, the tournament for Hillcrest has been full of rematches: Rich Central, T.F. North and now Richwoods. Game is set for Monday evening in Streator.

"It's a date of destiny," Maniatis said.
To witness the Lady Hawks victory at the sectionals (2010) click one of the two videos below...
| | |
| --- | --- |
| NOTE: We are proud to announce that for the entire month of December, S.C. Fitch Enterprises, and all of its affiliates including Amateur Sports News Network, ASNN365.com, and Amateur Sports Gallery will be assisting Connection for Abused Women and their Children (CAWC) on our web site. | |
Here is your opportunity to stop hating the media and actually become it!
We are always looking for additional personnel. Click here if you are interested. If you would like to submit a story, score, stats, or even photos, click here.

Click here to view our Online Amateur Sports Event Calendar