road trip....
Feel free to add share this article...
| More
As the famous quote goes, there is nothing like a road trip. As Editor-in-Chief for Amateur Sports News Network, my assignments vary from Monday through Saturday, and August through June for the most part. More specifically, in the Chicagoland area, there's always something going on pertaining to sports...
In the fall, you can find us all over the place on the sidelines covering Pop Warner style football, high school as well as college. Towards the winter, we are in just about every gym, south of the 95th (or the starting point of I57) to Kankakee; Illinois/Indiana border to Aurora, as well as a few college arenas.

Right now, I decided to write this quick document to illustrate what I go though to prepare for an evening out covering sports.
Here's what I take with me on these trips:
My bag of choice is the lowepro SlingShot 200 AW
I find it perfect for sports photojournalists due to its unique sling design to go from "carry mode" to "ready mode" in just seconds. Thus, it gives me the ability to carry the bag comfortably on my back, or it can easily rotate to the front so you can get to your camera quickly.

What's in it...
The SlingShot 200 AW holds everything I need on any given day/night of shooting including an SLR with mid-range zoom lens attached 3-4 extra lenses, cables and accessories and has a full access lid to make loading it a snap. This feature-rich bag also includes a built-in memory card pouch, micro fiber LCD cloth and two generous organizer pockets. It is certain to surprise even the most demanding photojournalists.
Now, here are the items making the trip for the 2012 IHSA Girls State Finals Basketball game in Normal, Illinois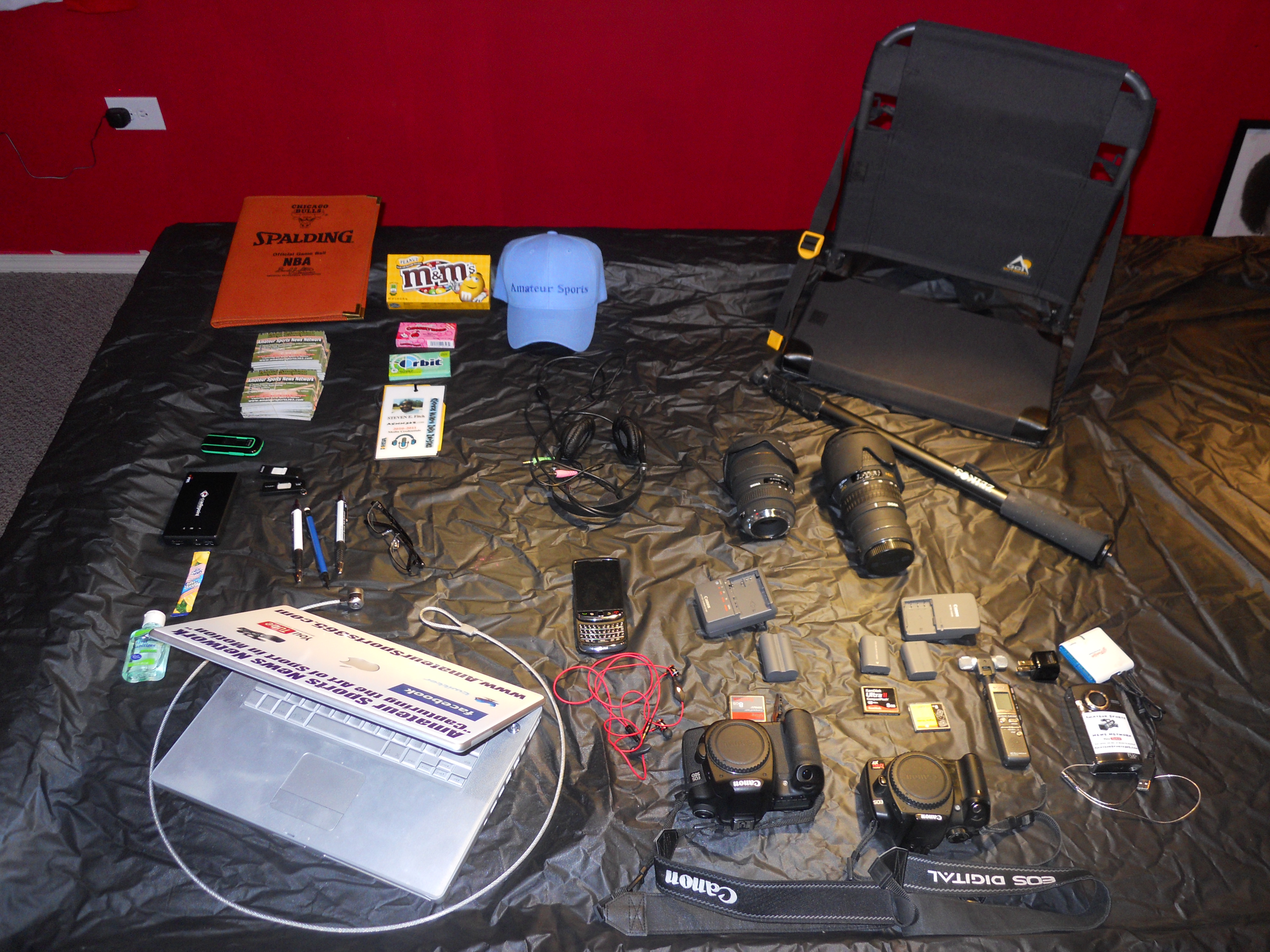 NOTE: I'll start from the bottom left and go to the right then up and finally to the top left...
iBeats by Dr. Dree
Canon EOS 5D
Canon EOS 2D
Sony voice recorder
Flip Cam (HD)
3 backup batteries and two chargers
2-8GB memory cards
1-16GB memory card
All-in-one memory card holder (USB)
Memory card reader for my iPad2
Sigma 70-200mm 2.8 lens
Sigma 24-70mm 2.8 lens
single monopod
Logitech headset with mic for Skype and/or remote audio
Black, soft cushion baseline seat
Amateur Sports media badge
Hand sanitizer
small variety of pens and pencils
basketball portfolio
Amateur Sports hat
and healthy snacks of champions (protein bars, Kellogg protein water mix, gum, as well as M&Ms)
During football, I definitely carry all of the above items plus...
Canon 400mm 4L lens

Mountain Hardware belt pouch

Canon 2x extender

Light Gortex raincoat

Light Gortex rain/wind pants

Kneepads

head warmers
sun-flower seeds (low-sodium of course)
See you guys at the baseline....

Here is your opportunity to stop hating the media and actually become it!
We are always looking for additional personnel. Click here if you are interested. If you would like to submit a story, score, stats, or even photos, click here.

FOLLOW US...