tech corner
Tech minute: Must-have gadgets for back to school




Best iPhone and iPad apps for high school students: iStudiez Pro, Khan Academy, Flashcards+, and more!

Indianapolis Colts Step Into the Digital Era


good read...




Perfect tie to fix that wi-fi








iSafe School Backpack

Welcome to isafe, the world's first and only line of personal security backpacks & bags. You'll have protection & security everywhere you go! www.isafebags.com


MUST HAVE SUMMER APPS for your Apple products
With half of 2012 already in the books, now is a good time to showcase the best apps and games released in 2012 so far. Whether you are a social butterfly or couch potato, a shutterbug or a drawing game fanatic, there are great new apps worth downloading right away.

Camera Awesome (iPhone, iPod Touch Free)
Way more than just an incremental improvement over the pre-installed Camera app on the iPhone, Camera Awesome is so easy to use and has so many features that, after using it, you may not buy another stand-alone digital camera ever again. Created by 10-year-old photo-sharing site SmugMug, Camera Awesome offers several ways to "awesomize" your pictures, including automatic levelization and color adjustment. Furthermore, the interface is gorgeous. And while most casual photographers will have more than they need from Camera Awesome without ever paying a dime, there are several additional presets and filters that can be purchased for 99 cents a pop (or all at once for $9.99).

Highlight (iPhone, iPod Touch Free)
Highlight is one of several new and innovative apps that help users identify Facebook friends and other people with similar interests who are in their physical proximity. The app works best when you are at an event or urban location where other users have Highlight downloaded to their devices. When you enable push notifications to allow the app to alert you when a Highlight contact is nearby, you might realize that your old high school buddy works in the building next to you, or that there is an attractive person in line at Starbucks who shares your taste in music.

Viggle (iPhone, iPod Touch, Android Free)
Didn't we all have that childhood fantasy about an invention that could actually reward viewers for watching their favorite television shows? Thanks to Viggle, that dream is now a reality. Viggle lets users check-in and earn loyalty points from the likes of Amazon, Starbucks and the Gap for watching their favorite programs. Beyond earning credit for vegging, Viggle treats users to trivia questions, polls and tweets related to the programs they are watching.

Instagram (iPhone, iPod Touch, Android Free)
It didn't take long for Instagram to become a household name after it made its debut on the iPhone in late 2010. It did take awhile, however, for the photo-sharing app to arrive on Android, which it finally did in April. It was worth the wait, both for the company and its community. Within a week, Instagram attracted more than 5 million downloads (enriching the experience for existing users of the service). Shortly thereafter, the 12-person company was acquired by Facebook for what was then a 10-figure valuation. Now that is a positive development you'd like to share with friends!

Draw Something (iPhone, iPod Touch, iPad, Android Free)
Modeled after Pictionary and adapted for touch-screen devices, Draw Something was downloaded more than 50 million times in its first 50 days of availability, making it the fastest growing app of all time. The collaborative game works well when played between Facebook friends or complete strangers. It's accessible enough that young children and tech-illiterate adults can pick it up in a flash. Despite a slowdown in usage after it was acquired by Zynga in March, Draw Something is still a blast to play.


15 Things You Can Remote Control With Your iPhone
Some of the coolest apps in Apple's (AAPL) iPhone App Store are widgets that let you use your iPhone or iPod touch as a remote control.

You can control dozens of gadgets, ranging from your DVR to your computer or high-end digital camera. The best news: Many remote control apps are free, and most are a few bucks or less.

Click here to see 15 things you can remote control with your iPhone...

Troubleshooting your Home PC

At a time when brand-new computers can sell for under $400, it's hard to make a case for spending $100 on a single tech-support call. Heck, PC's are becoming almost disposable. But you shouldn't have to buy a whole new computer just to eradicate spyware or fix your e-mail or a simple virus landed on your PC. Besides, you would have to migrate all your data to the new computer, and could quite possibly encounter the exact same problems again. When your precious data is at stake, or you have an urgent job to finish, your best bet is to work with what you have. For more, click here.

Sleep Phones

Relieve stress and listen to music with wonderfully soft SleepPhones, the world's most comfortable headphones for sleeping. A family physician developed these innovative high-quality headphones to help patients fall asleep naturally, without drugs.

http://www.sleepphones.com/

20 Most Anticipated Tech Products of 2012

For more click here...

Slingbox Solo Network Media Player

Watch your home/office TV anywhere via the Slingbox Solo on a wide variety of broadband-connected computers and smartphones. Read more

, click here
iPhone 4S
The faster dual-core A5 chip. The 8MP camera with all-new optics also shoots 1080p HD video. And introducing Siri. It's the most amazing iPhone yet.

For more on a nationally provided review, click here.

FREE

Anti-Virus software

Download the most trusted free antivirus and anti-spyware security software for Windows 7, Vista and Windows XP. Get free virus protection now! Just click the icon to the left, or click here.
Rovio Wi-Fi Roaming Robot...
Every human family should own a Rovio. This way the machines will be able to see and hear everything you do. Rather meatbags will be able see and hear everything other meatbags do. For more http://www.thinkgeek.com/gadgets/electronic/c7b4/
ErgoMotion Laser Mouse by SmartFish...

Smartfish Introduces anti-gravity comfort for your computer mouse— the Whirl™ Desktop's patented ErgoMotion™ pivot system makes your mouse feel like it's "floating on air!" http://www.smartfishtechnologies.com/Whirl-Ergonomic-Pivoting-Laser-Mouse--Wireless_p_1.html
Samsung Fascinate
Do you want the whole world in your hands? How about the whole universe? Tens of thousands of apps populate Android Market -- everything from popular games to productivity tools to constellation maps. Powered by the latest Android platform, this phone fully integrates with Google Mobile Services. You're now at one with your Gmail account, Google Maps, YouTube videos and more. For more visit http://www.samsung.com/us/mobile/cell-phones/SCH-I500RKAVZW

RSS FEED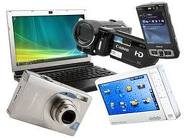 Gadgets for Dad
GRADUATION GIFT IDEAS....


Looking for graduation gifts for high school and college graduates and you are struggling on what to get for the grad who has everything (or, more realistically, nothing)? Here are a range of ideas to honor your graduate, from the practical to the elaborate. Just click on any image below...


FLO PERSONAL TV
Look, we fully understand that someone, somewhere put a lot of time and effort into designing a $250 handheld that does nothing but watch pixelated mobile TV for a lofty per-month price, but seriously, there has to be better uses of one's time. http://www.pcworld.com/product/509125/flo_tv_personal_television_ptv_350.html
HP DreamScreen 100 Internet Touchscreen
Introducing a whole new channel for your music, photos, and video: Channel You. What's on Channel You? Practically anything you want. From photos of your last vacation, to your favorite dance party music mix. Watch video clips of your kids, listen to Internet radio stations, get Facebook status updates, weather, calendars, and more, all delivered wirelessly to anywhere in your home. http://www.amazon.com/HP-DreamScreen-10-2-Inch-Wireless-Connected/dp/B002GJTZBI
FujiFilm FinePix Real 3D W3...
The camera's dual 1/2.3-inch, 10 megapixel CCDs and 3X zoom lenses are carried over from before, but a new design and more user-friendly interface is said to make a huge improvement -- even if it's still too easy to stick a finger over either of the two light portals up front. Build quality is solid and the new 3.5-inch, glasses-free 3D LCD on the back is called "impressive," far brighter than last year's parallax barrier. The machine will capture 720p 3D movies and can save both 3D MPO images and 2D JPEGs simultaneously. http://www.fujifilm.com/products/3d/camera/finepix_real3dw3/
Blue Microphone Eyeball 2.0 Webcam...
Meet the Eyeball 2.0; a revolutionary new webcam with HD-quality audio and two megapixel video. The Eyeball 2.0 delivers Blue's award winning design and sound quality to a portable webcam. The Eyeball 2.0's retractable camera lens preserves your privacy and ensures that the Eyeball 2.0 turns itself off when you aren't broadcasting. The custom-designed monitor adapter makes it simple to position it on virtually any laptop or desktop monitor. The Eyeball 2.0 features Blue's famous pro-quality condenser capsule, giving it better sound than any webcam in the market and features Super HD video to complete the picture. The Eyeball 2.0 works on both Mac and PC with no complicated drivers to install. For more, or to purchase visit www.bluemic.com/eyeball/


SHOPPING ONLINE TIPS
Let's face it, we now live in an online world. When was the last time you went to the a travel agent to purchase a single plane ticket? Better yet, do you still make that early, Saturday morning dash to your local bank to handle all of your financial transactions? These are all rhetorical but nonetheless, we are in the golden age of online shopping so you better be ware of your surroundings... technically the same thing your parents told you as a kid instead of putting your money in your shoe, just realize who you are doing business with by certain things... Click here to read more...


Apple (AAPL) iPad 2:
There is no other device that has captivated an audience as much as the iPad. It's a reader, a streaming audio and video player, a portable game players and so much more. This device has revolutionized the concept of a Web tablet. This is a must-have for any gadget enthusiast. Now iPad is even more amazing and even less like anything else. With two cameras for FaceTime and HD video recording, a fast and efficient dual-core A5 chip, and the same 10-hour battery life. All inside a thinner, lighter design. Starting at $499. To see the iPad in action, simply click here.



Here is your opportunity to stop hating the media and actually become it!
We are always looking for additional personnel. Click here if you are interested. If you would like to submit a story, score, stats, or even photos, click here.

FOLLOW US...