GIRLS BASKETBALL
Fenwick 73, Marian Catholic 63

| | |
| --- | --- |
| The Spartans threaten early, but Duke recruit Tricia Liston got her feet underneath her and knocked down 21 of 37 in the first half to not only seal the victory but obtain their 16th consecutive conference title. This streak started when the Friars joined the league and Liston was just 1 years old. | |

"This was a really big game because it meant winning conference, and Fenwick has won the past 15 years," Liston said. "We had a lot riding on this game."

The Spartans were led by Simone Laws who knocked down 22 points and nine boards.
Zion-Benton 48, Lake Zurich 38
Juanita Robinson knocked down 19 points to lead Zion-Benton to a perfect home record of 9-0.
FRIDAY, FEBRUARY 5, 2010
BOYS BASKETBALL
Hales 72, Leo 54
The Spartans' got off to a quick start behind the tag-team tandem of Aaron Armstead, who knocked down 19, and Patrick Miller, who add 17 to continue their winning ways coming down the stretch.

Morgan Park Academy 71, Francis Parker 44
Morgan Park Academy had three players with double-digits in the win over F-P. Chris Deanes had 20, Damon Williams had 16, and Tony Core added 14.

THURSDAY, FEBRUARY 4, 2010
GIRLS BASKETBALL
WINDY CITY CHAMPIONSHIP
Young 73, Bogan 38
Congratulations to the Whitney Young Dolphin girls basketball team on winning their 6th City championship. The second ranked Dolphins pretty much dominated from start to finish in this contest against Bogan. Ms. Kiana Johnson led the team with 16 points and 14 of those came in the first quarter.

Bolingbrook 54, Homewood-Flossmoor 41

| | |
| --- | --- |
| The top ranked Bolingbrook Raiders came into the game against HF without two players, Ariel Massengale and Falon Edwards, and was able to get a win. The team was led by sophomore phenom Morgan Tuck, who finished with 20 points and 10 boards, plus she added 3 blocks. | |
"This (victory) means a lot," said 6'2" sophomore Tuck. "It gets out confidence up and we want to continue that going into the playoffs." To hear more from Ms. Tuck, click here.
| | |
| --- | --- |
| The Vikings did make a game of it closing the Raiders lead to one in the third quarter, 24-23, on an outside jumper by sophomore guard Charnelle Read, who finished with 10. But turnovers were key in the loss as the Vikings turn the ball over 21 times and the Raiders were able to capitalize and hold them off coming down the stretch. | |
This victory officially clinched the Southwest Suburban Blue conference for them. And right now, the Raiders have won 46 straight league games.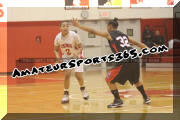 Jailyn Norris scored 11 in the losing effort for Homewood-Flossmoor. Also see J-Norris defensive ability blocking a shot in this contest by click here.

WEDNESDAY, FEBRUARY 3, 2010
GIRLS BASKETBALL
Fenwick 69, Joliet Catholic 28
Coming down the stretch the Lady Friars (24-2) are doing everything they can to stay near the top of the East Suburban Conference behind the hot hands of Tricia Liston, who led the team with 26 points and 10 boards.
TUESDAY, FEBRUARY 2, 2010
BOYS BASKETBALL
Bolingbrook 64, Lincoln-Way East 60 (OT)
The Red Raiders fault back from a double-digit deficit to get a victory over the Griffins in overtime. Behind the hot hands of Antoine Cox who knocked down 18 in the victory.

De La Salle 80, Seton 69
In the words of old school rapper LL Cool J... "Don't call it a comeback, I've been here for years..." That was the message De La Salle demonstrated against Seton behind the wicked, underrated combination of Michael Shaw, who knocked down 20, Troy Torrence, added 17, and Jaylon Tate 13. De La Salle remains undefeated and in control of the Catholic League.
Game summary sponsored by



to hear archived shows, click here!

Hales 67, Fenwick 46
With the BIG Dipper championship in the rear view mirror, Hales continues on the right path in the Catholic League with a dominate victory over the Fenwick Friars. Senior guard Patrick Miller play way above his six-foot statue knocking down 21 of his 31 points in the fourth. In fact, the Spartans outscored the Friars 30-11 coming down the stretch to seal the victory.

GIRLS BASKETBALL
Hillcrest 68, Lemont 22
The Lady Hawks were led by sophomore Samirah Ali who knocked down 14 points for statement victory in the South Suburban Blue conference. Also, the senior package of Kristin Marshall, Jacquenae Foster and Uniquah Hampton each added 10 in the victory.

This game summary is sponsored by


"Capturing the Art of Sport in Motion"
check out our gallery by clicking here

| | |
| --- | --- |
| NOTE: We are proud to announce that for the entire month of February, S.C. Fitch Enterprises, and all of its affiliates including Amateur Sports News Network, ASNN365.com, and Amateur Sports Gallery will be honoring Black Athletes accomplishments on, as well as off the field of play for Black History Month. Click here for more! | |
Here is your opportunity to stop hating the media and actually become it!
We are always looking for additional personnel. Click here if you are interested. If you would like to submit a story, score, stats, or even photos, click here.

View my Online Calendar Amateur Sports Event Calendar