SPORTS


Weather in



Chicagoland Sports Talk Podcast...

check us out every Saturday @ 800am CDT
Legal Battle for EASports
by
Prez Ro

Catch up with me @ Twitter and Facebook.
AP - Athletes want compensation, EA and the NCAA say no way.
An ongoing court case regarding the use of athletes' likenesses could drastically change or completely do away with Electronic Arts' college sports games. But for now, NCAA 11 is still set for release tomorrow, with Alabama's "HB-22″ looking and playing just like last year's Heismann Trophy winner Mark Ingram.
The Washington Post gets us up to speed on the class action suit put forth last year by a trio of former college athletes: UCLA power forward Ed O'Bannon, Arizona State QB Sam Keller, and Rutgers QB Ryan Hart. The athletes want EA and the NCAA to compensate college athletes for using their likenesses in games.
"Don't tell me that that's not me, or that's not Sam Bradford, or number 12 on Texas is not Colt McCoy," Keller told the Washington Post. "Don't tell me they're making the games and throwing in a bunch of randoms for each college. Don't tell me that. Something's got to change."
Visit EASPORTS.com for details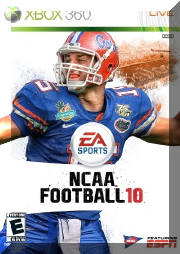 click here...
EA and the NCAA sought to have the case dismissed in February. They argued that NCAA athletes forfeit their commercial rights when they sign a release permitting the association to use their images in promotional activities.
However, presiding U.S. District Court Judge Claudia Wilken denied the motion, forcing EA and the NCAA to prove they don't use the likenesses of college athletes in games. And good luck doing that. Though EA doesn't use the athletes' names, it uses their actual numbers, appearance, hometown, and statistics.
"They don't have a name on the back, because they're not allowed to," Keller told the Washington Post. "It's supposed to be Arizona State and just a bunch of players. They're not supposed to have each player pixilated, but they do, and it's obvious. The issue with EA Sports is completely separate from any issue with the NCAA. The only reason it comes in line is because EA Sports takes our images, and they're not supposed to. But the NCAA lets it happen. They're not protecting us." The case is ongoing, and legal experts told the Washington Post they expect it will be a long and drawn out battle.
Sharkey says: The NCAA will fight this tooth and nail because if it loses this case, it would set a precedent in how it promotes and markets college sports and athletes — a precedent that could cost the organization a boatload of cash. On the one hand, I have no sympathy for college athletes because many of them do, in a sense, get paid via scholarships. Given the cost of a college education these days, that dollar amount is significant. On the other hand, marketers estimate the NCAA makes more than $4 billion each year through licensing, TV deals, videogames, etc.
That's an insane amount of cash — why shouldn't the athletes responsible for making that money get a cut?
FOLLOW US
Best way to stay current & connected
NOTE: We are proud to announce that for the entire month of July, S.C. Fitch Enterprises, and all of its affiliates including Amateur Sports News Network, ASNN365.com, Amateur Sports Gallery and Kennel Sports Talk will be honoring this month as Make a Difference to Children Month. The Make a Difference Movement is comprised of an assortment of volunteer opportunities, special events, and fundraising options that allow the public to show support for the at risk children and families that we serve. Click here for more information.

the media & become it!

click here for more...
We are always looking for additional personnel. Click here if you are interested. If you would like to submit a story, score, stats, or even photos, click here.


Be sure to check out ALL of our affiliates page - click here!